Yesterday was
SABR Day
and I
again
attended the Louisville
"Pee Wee Reese" Chapter
meeting. In fact, I arranged for the room on the University of Louisville campus and helped connect the group to a couple of the speakers. Kudos to local leader
Harry Rothgerber
for making all the detailed arrangements.
The first speaker was UofL baseball Sports Information Director
Sean Moth
. He calls the Cardinals baseball games on the radio and is also the PA announcer for the basketball team. Sean talked about his background in the media, discussed some of his favorite interviews, imitated Vin Scully and Harry Caray, and opined
that the home run ball that ended the UofL season last year (and sent Cal State Fullerton to the College World Series) was foul.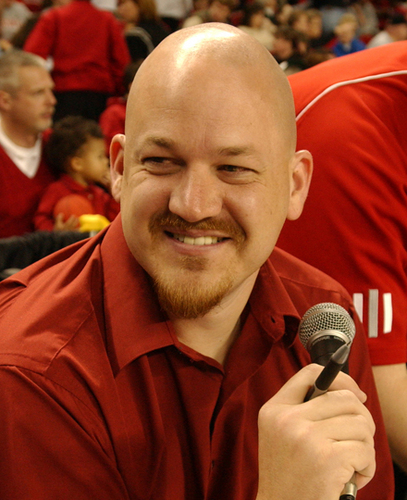 The second speaker was
Greg Rhodes, Team Historian of the Cincinnati Reds
and the former director of the Hall of Fame and Museum at Great American Ball Park. Greg is the author of half a dozen books, including two that have won
top
SABR
research
prizes. Backed by a colorful and interesting PowerPoint presentation, he talked about the opening day tradition in Cincinnati, beginning late in the 19th century. In 2004, Rhodes published a
book on this topic.
His presentation included numerous interesting anecdotes and some trivia. Did you know that Adam Dunn has hit more home runs (5) in that game than any other Reds player?
Greg focused a good deal of attention on several recent openers that I recall, including the 1994 game(s). The Monday traditional sell-out opening daytime game was played before a crowd of 55,000, but it actually followed a Sunday night game attended by only 32,000 fans. The Sunday game was not preceded by a parade or other typical hoopla. In 1995, the parade was held on the long-scheduled early April date even though the season was delayed because of labor strife. In 1996, the game was canceled after only a few pitches because of the tragic death of
home plate umpire John McSherry
.
The third and final speaker was UofL Assistant Professor
Megan Shreffler
who gave a talk on "The Socialization of Chicagoans into Baseball Fandom." Basically, her PowerPoint-backed talk addressed why some Windy City residents cheer for the Cubs, while others back the White Sox. Megan's talk included a bit of academic theory and was based on a survey of Chicago residents -- some responding via Survey Monkey and others filling out a paper form. She found that Cubs fans tend to root for their family's historic favorite team, while Sox fans are best explained by geography.
Megan is a Cubs fan and is very excited about the upcoming season.
The event concluded with Dr. Jack Sullivan's recurring trivia contest, won by
Jon Borie
(14 points of 25) narrowly over Bob Sawyer (13.5) and myself (13).
Visit this blog's homepage.
For 140 character IR and foreign policy talk, follow me on twitter.
Or for basketball, baseball, movies or other stuff, follow
this personal twitter account.